Chelsea Czibere is an adventure lifestyle photographer from a rural community in Alberta close to the Canadian Rockies. An avid skier, snowboarder, downhill mountain biker, rock climber and runner, Chelsea loves to be outside and in the mountains enjoying adventures big and small. She's happiest outside with her husband, three kiddos, and golden retriever that looks like a lab (of no fault of her own). You can find her telling stories through photography and writing at www.chelseamackenziephoto.com or on Instagram @chelseamackenzie.1 where she works to inspire others to get outside and have their own adventures.
Thursday, 20 February 2020
Have you ever wanted to head to the mountains for a day of fun in the winter with non-skiers, but unsure of what to do? Look no further than a short drive from Calgary to Nakiska Ski Area for a tubing adventure that will leave everyone in your group grinning from ear to ear.
Our family of five headed to the designated tube run area accessed by a magic carpet (not unlike a moving sidewalk) that whisked us up the hill for an exhilarating ride down. The tube run attendants helped everyone get situated and gave the option of taking a spinning ride down, a group ride, or solo straight shot down the track.  We tried it all, and when our ski-crazy six year old asked if we could skip skiing and tube all day, we knew the activity was a hit!
In our ever-increasingly connected society I feel we need to be more mindful of making family memories where screens are not involved. Spinning down the mountain shrieking and laughing with our kids accommodated an experience of just being present with our children. There was no coaching or expectations, just pure fun.
As a parent, I couldn't help but note how easy it was – no special equipment, just warm clothes and snow boots. Heading out without extra supplies is always noteworthy in my books, especially when it still leaves everyone hooting and hollering.
Children 42" or 3 + years old are able to ride in their own little tube side by side with their parents. When we peaked in at our youngest after her maiden voyage we weren't sure what she thought as she was completely bundled up and her face was hard to detect. However when we asked if she wanted to go again, her exaggerated head nod let us know all we needed – and then we saw her twinkling eyes and grin.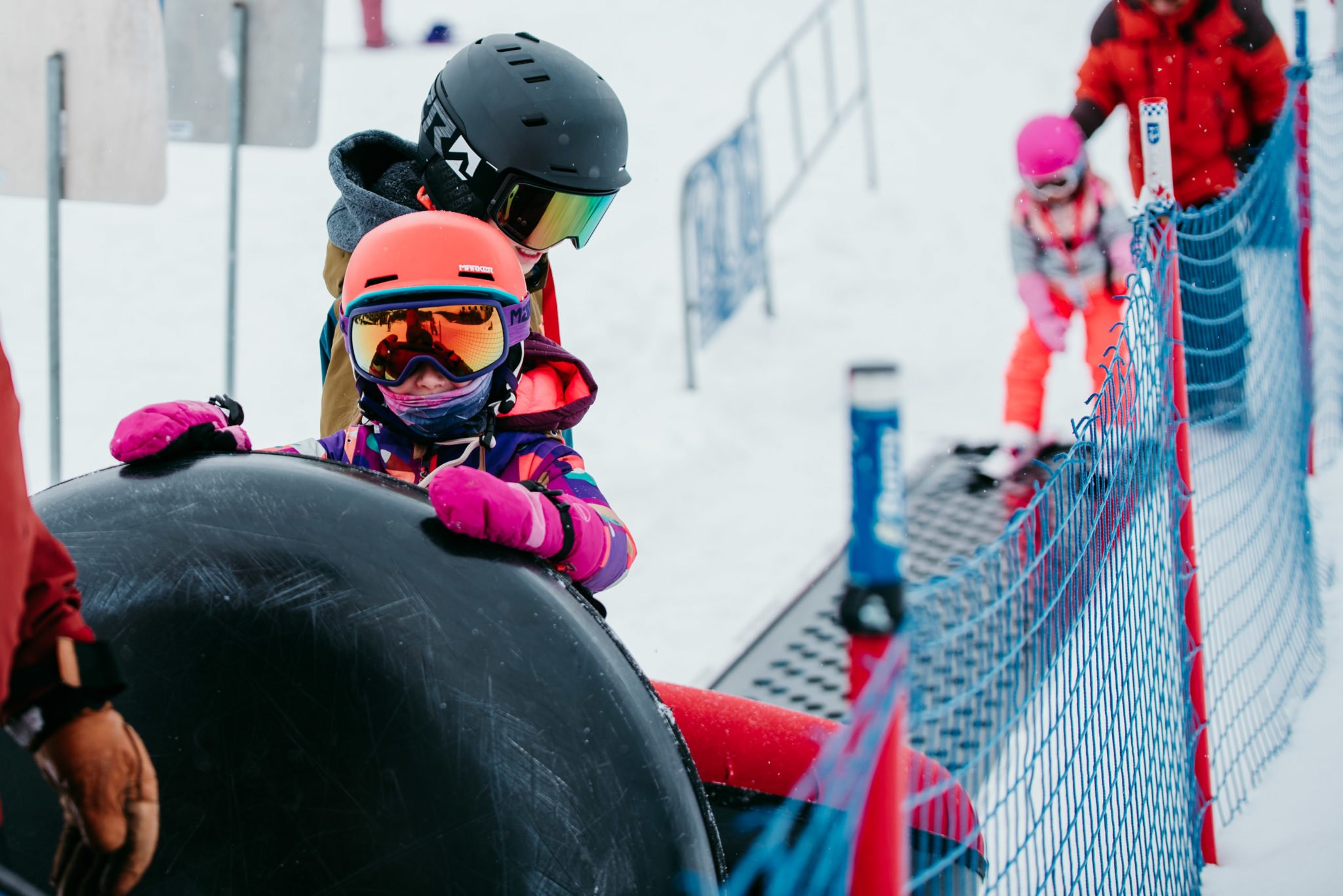 Even though the opportunity had arisen to enjoy the mountains without packing the car full, we couldn't possibly go without skis. It felt wrong. Tubing then was just part of our day out and I was thrilled to find out that with the purchase of a regular lift ticket, adults can add on a tubing pass for $15 and children only $5 extra for 2 hours of tubing.
Whether you are a diehard skier or have never seen the mountains in the winter, snow tubing at Nakiska is guaranteed to be an amazing experience. If you don't believe me, feel free to talk to our six year old – she hasn't stopped talking about it all week.
Photos & Words by Chelsea Mackenzie Photography
Thursday, 21 November 2019
I have always loved strapping on my skis, catching an early lift and taking in a day on the mountain whether the conditions are light and fluffy or spring slush. Any day skiing is a good day. Now as a parent I still feel the same sentiments but even more as I watch our children's faces light up as they conquer new terrain, pick up a little speed, or are finally released from the harness. It's amazing – and it's exhausting. We are constantly trying to balance family time with work, extracurricular activities (not to mention the FUNDRAISING they encompass), and commitment to friends, family and school. Sometimes I just want to cheat on our adventurous side a little and enjoy some relaxation – I now know we don't have to cheat.
A short 49-minute drive from Calgary, you can do both –3 km down the road from Nakiska Ski Area is the Kananaskis Nordic Spa.
Nakiska is opening 7 days per week starting November 29th giving way to a winter full of skiing fun not too far out of the city. You don't have to commit to a weekend away to get your family out in the mountains and on the slopes. With 3 high-speed quad chairs, 2 doubles and 2 magic carpets you are guaranteed to be whisked up the hill quickly to get more runs in, even if you aren't the quickest down. There are ski lessons available for children and adults alike, so the parents can enjoy a few laps top to bottom on their own while the kids sharpen their skills. If those kids are getting into the teen years and the parents need a lesson or two to keep up, those are available too.
After enjoying the slopes with friends or family, there is no reason not to pop over to the spa and unwind. The hydrotherapy access is just as stated on the Kananaskis Nordic Spa's website, "a modern alpine sanctuary." Wrapped warmly in a luxurious tartan robe you move between pools, saunas and a steam cabin surrounded by pines dusted in snow. The winter-ready hammocks are strategically placed for you to rest comfortably between cycles, as are the Adirondack chairs gathered about crackling fires. The natural rock and beautiful landscaping leaves you uncertain of where the spa ends and the wild begins. With the delicious Two Tree Bistro mere steps away it is an easy place to spend an afternoon or evening recharging after skiing or snowboarding. (Please note to enter the Spa you must be at least 18 years old).
Offering the perfect marriage between sport and relaxation in the pristine Rocky Mountains a short drive from Calgary, this ski and soak experience will have you questioning only one thing – how many of your friends and family are going to want to come along.
Photos by Robin Laurenson & Chelsea Czibere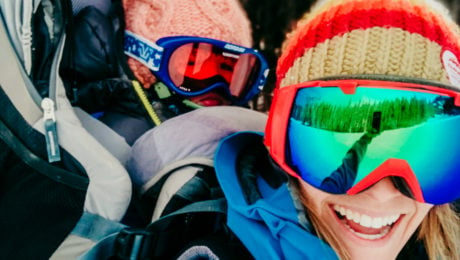 "Twist. Push AND twist. No. Not like that. REALLY push hard!" The Mary-Poppins-cheerfulness was starting to escape my voice as I encouraged my five year old to put on her ski boots. A maniacal laughter instead was rising up out of me making known that the Mary Poppins voice was just a schtick to try and keep up morale, and keep everyone (parents included) from melting down. Deep down though, I knew if we just kept at it and continued to dress these beloved children of ours layer after layer, soon we would be released from this horrid form of purgatory and be out on the mountain. This is skiing with children.
My husband Nick and I both had a huge love for the outdoors, adventure and sport, and was part of the mutual attraction between us when we started dating. We dreamt of many excursions into the wilderness, and exploring the great Rocky Mountains we called home. Our first child came along at the tail end of 2011, and we embarked on our biggest adventure yet – parenthood.
I'll never forget a well-meaning Auntie regale to me when disclosing we were expecting a new little life that it meant we would have to grow up. At about that exact moment, I decided (and told Nick, in which he supported me either out of excitement or fear of frustrating his pregnant, hormonal wife) that we in fact were not going to "grow up." We were going to embrace our children's childhood as the greatest adventure of all time, and introduce them to an amazing world that would be chalk full of wilderness, adventure and sport.
It is noteworthy, that I had yet to put ski boots on a child.
Or driven for hours on end with a baby.
Before you close this story giving it a quick amen of solidarity, or shudder at the thought of having children, please know we've been taking our children out to the mountains skiing for the past 5 years, since our firstborn was two. We have found a pretty great little gem that makes this feat more than palatable, and in fact incredibly fun. Let me introduce you to Nakiska Ski Area.
This resort on the edge of the Rocky Mountains is quick 45 minute drive from Calgary. It makes for a wonderful day trip from the city for locals, or for those flying into Alberta wanting an authentic Rocky Mountain experience that includes downhill skiing – because is it really authentic if you don't ski?
Snowplows and wildlife naturally add to the iconic Canadian Rockies experience as you drive through the Kananaskis.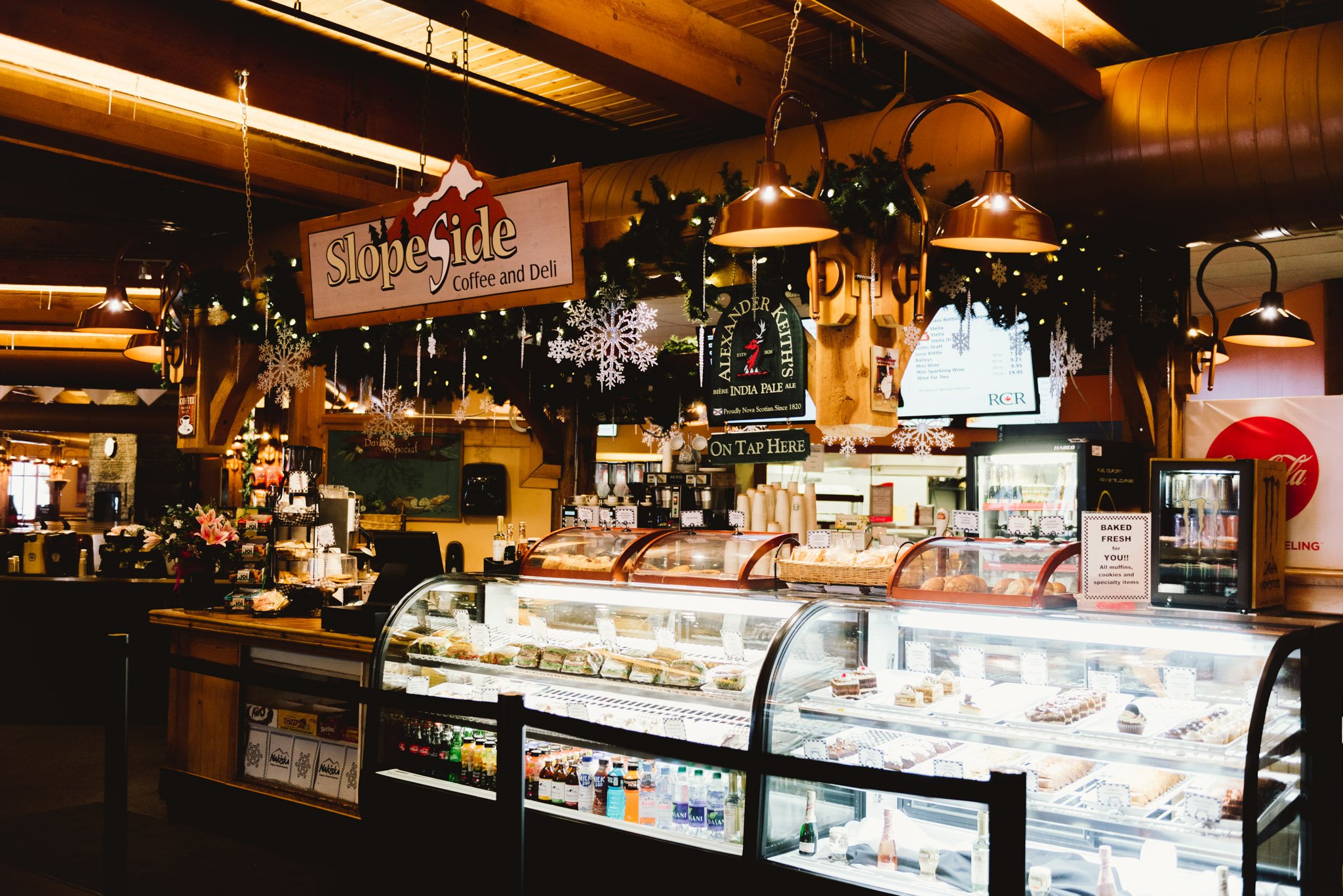 The resort itself is charming, with the lodge boasting several fireplaces end to end at which you can warm up, a darling cafe with delicious treats (the monster cookies are a must), and a well-stocked retail shop. The staff was equally delightful, and everyone we encountered from lifties to cleaning staff were extremely friendly. This was tested when a small baby was smashing the aforementioned monster cookies underneath the beautiful wood tables in the lodge – this was not our experience, I'm just relating it for a friend.
Then there is the skiing. Nakiska is known for it's meticulously maintained runs that lend themselves as a racer's dream hosting countless international competitions. The runs are confidence inspiring, and beautiful, and our five and seven year old rippers felt like rockstars. The high speed chair not only whisks skiers up quickly to catch more runs, but is a nice bonus-feature for the parent hiking with the baby below waiting for his or her turn to go for a quick ski.
The top was a magical little surprise this week, having received eight inches of fresh snow the night before. It was not only a great day with the kids,
but for us parents, we got to ski a powder day – and it was amazing. The fog closed in leaving you in a winter wonderland, with snow-covered trees and every little building looking like a mystical cabin in the woods.
Next time you're looking for a quick day trip from Calgary don't discount Nakiska Ski Area. In fact, it should be near the top of your list. And if you go on a Thursday you might just have the place to yourself.
Words & Photos by Chelsea Mackenzie Photo
See more photos of the experience on the original blog post on Chelsea's website.