Have you ever wanted to head to the mountains for a day of fun in the winter with non-skiers, but unsure of what to do? Look no further than a short drive from Calgary to Nakiska Ski Area for a tubing adventure that will leave everyone in your group grinning from ear to ear.
Our family of five headed to the designated tube run area accessed by a magic carpet (not unlike a moving sidewalk) that whisked us up the hill for an exhilarating ride down. The tube run attendants helped everyone get situated and gave the option of taking a spinning ride down, a group ride, or solo straight shot down the track.  We tried it all, and when our ski-crazy six year old asked if we could skip skiing and tube all day, we knew the activity was a hit!
In our ever-increasingly connected society I feel we need to be more mindful of making family memories where screens are not involved. Spinning down the mountain shrieking and laughing with our kids accommodated an experience of just being present with our children. There was no coaching or expectations, just pure fun.
As a parent, I couldn't help but note how easy it was – no special equipment, just warm clothes and snow boots. Heading out without extra supplies is always noteworthy in my books, especially when it still leaves everyone hooting and hollering.
Children 42" or 3 + years old are able to ride in their own little tube side by side with their parents. When we peaked in at our youngest after her maiden voyage we weren't sure what she thought as she was completely bundled up and her face was hard to detect. However when we asked if she wanted to go again, her exaggerated head nod let us know all we needed – and then we saw her twinkling eyes and grin.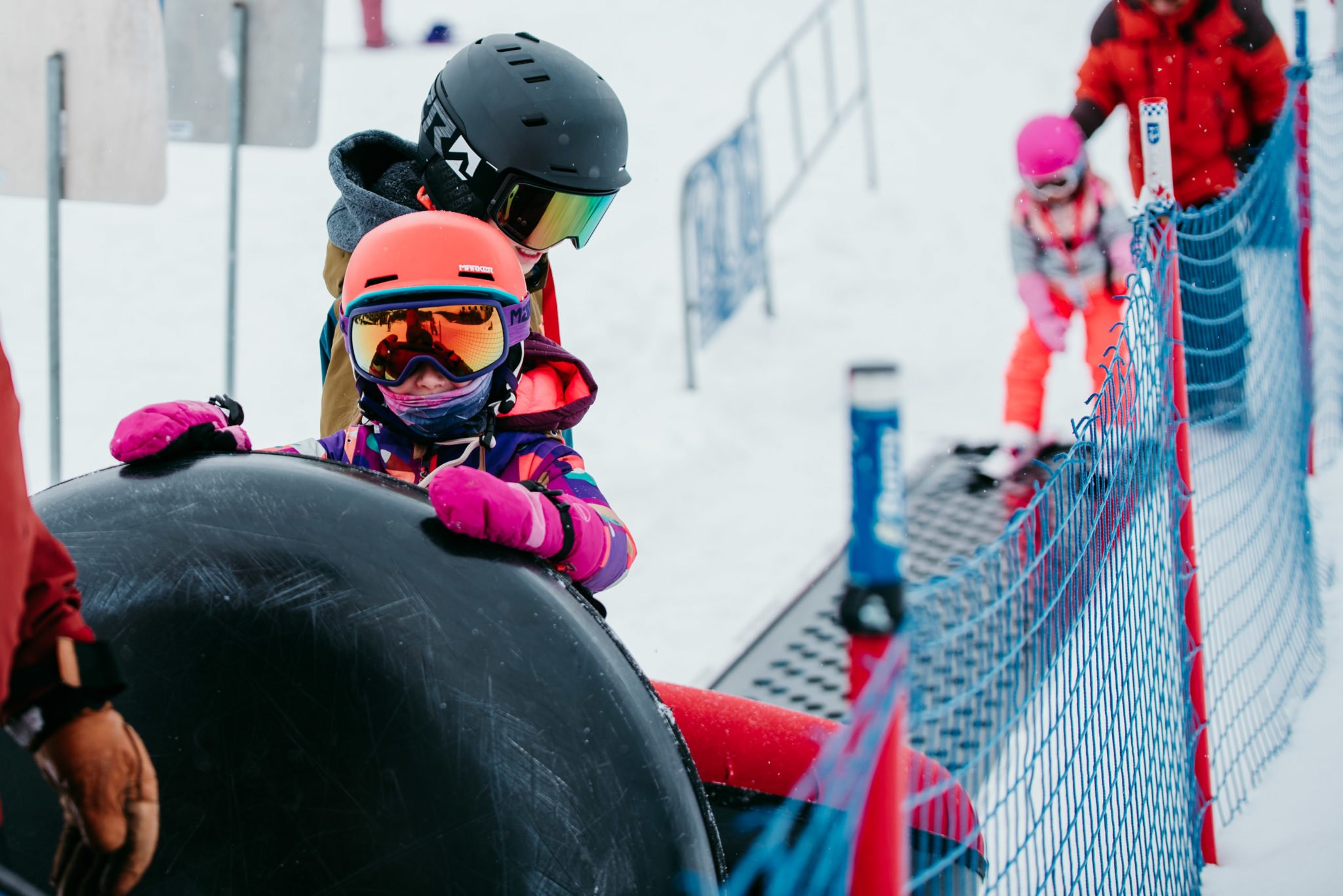 Even though the opportunity had arisen to enjoy the mountains without packing the car full, we couldn't possibly go without skis. It felt wrong. Tubing then was just part of our day out and I was thrilled to find out that with the purchase of a regular lift ticket, adults can add on a tubing pass for $15 and children only $5 extra for 2 hours of tubing.
Whether you are a diehard skier or have never seen the mountains in the winter, snow tubing at Nakiska is guaranteed to be an amazing experience. If you don't believe me, feel free to talk to our six year old – she hasn't stopped talking about it all week.
Photos & Words by Chelsea Mackenzie Photography