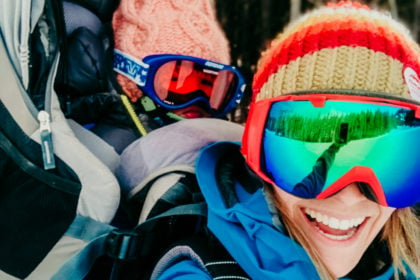 "Twist. Push AND twist. No. Not like that. REALLY push hard!" The Mary-Poppins-cheerfulness was starting to escape my voice as I encouraged my five year old to put on her ski boots. A maniacal laughter instead was rising up out of me making known that the Mary Poppins voice was just a schtick to try and keep up morale, and keep everyone (parents included) from melting down. Deep down though, I knew if we just kept at it and continued to dress these beloved children of ours layer after layer, soon we would be released from this horrid form of purgatory and be out on the mountain. This is skiing with children.
My husband Nick and I both had a huge love for the outdoors, adventure and sport, and was part of the mutual attraction between us when we started dating. We dreamt of many excursions into the wilderness, and exploring the great Rocky Mountains we called home. Our first child came along at the tail end of 2011, and we embarked on our biggest adventure yet – parenthood.
I'll never forget a well-meaning Auntie regale to me when disclosing we were expecting a new little life that it meant we would have to grow up. At about that exact moment, I decided (and told Nick, in which he supported me either out of excitement or fear of frustrating his pregnant, hormonal wife) that we in fact were not going to "grow up." We were going to embrace our children's childhood as the greatest adventure of all time, and introduce them to an amazing world that would be chalk full of wilderness, adventure and sport.
It is noteworthy, that I had yet to put ski boots on a child.
Or driven for hours on end with a baby.
Before you close this story giving it a quick amen of solidarity, or shudder at the thought of having children, please know we've been taking our children out to the mountains skiing for the past 5 years, since our firstborn was two. We have found a pretty great little gem that makes this feat more than palatable, and in fact incredibly fun. Let me introduce you to Nakiska Ski Area.
This resort on the edge of the Rocky Mountains is quick 45 minute drive from Calgary. It makes for a wonderful day trip from the city for locals, or for those flying into Alberta wanting an authentic Rocky Mountain experience that includes downhill skiing – because is it really authentic if you don't ski?
Snowplows and wildlife naturally add to the iconic Canadian Rockies experience as you drive through the Kananaskis.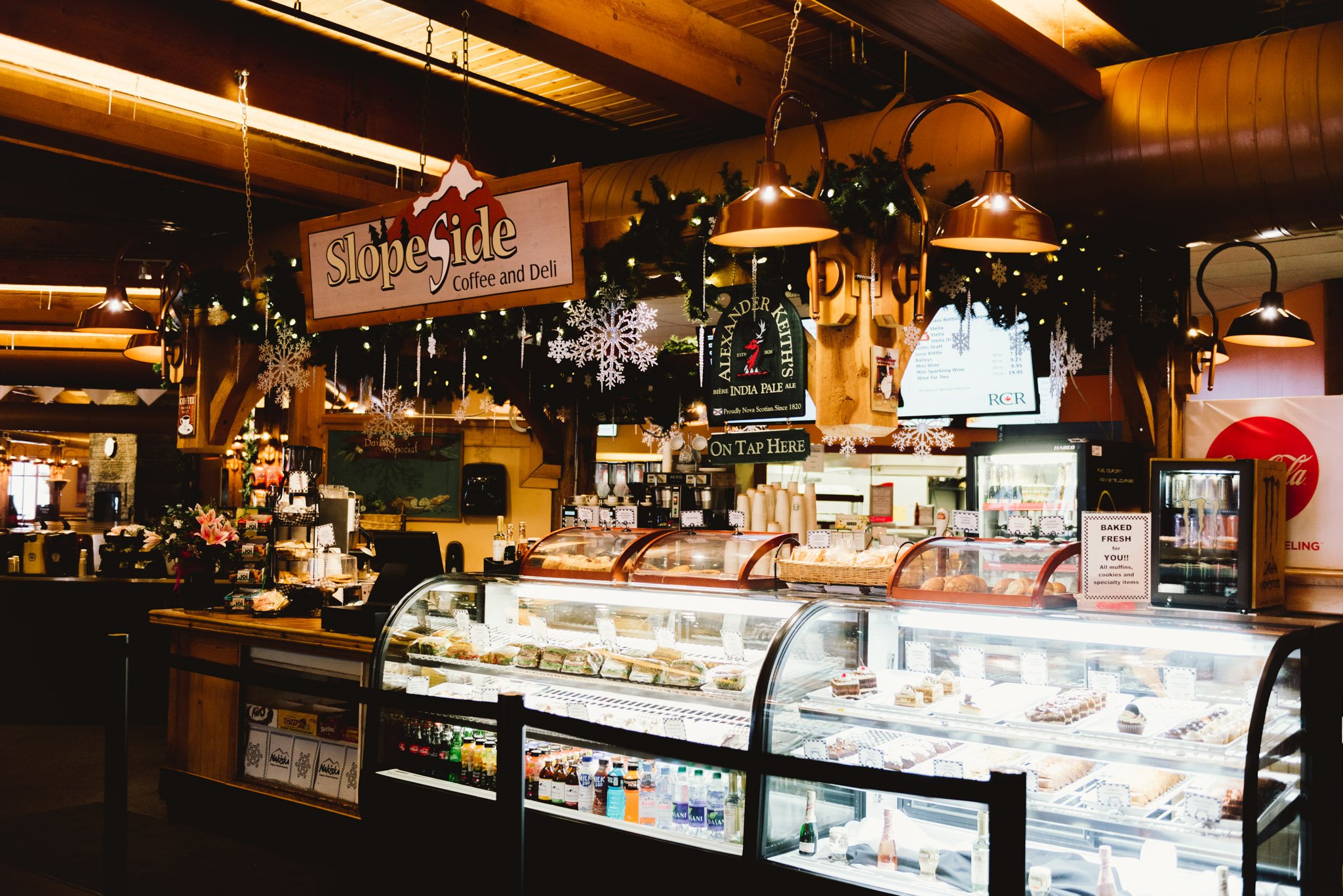 The resort itself is charming, with the lodge boasting several fireplaces end to end at which you can warm up, a darling cafe with delicious treats (the monster cookies are a must), and a well-stocked retail shop. The staff was equally delightful, and everyone we encountered from lifties to cleaning staff were extremely friendly. This was tested when a small baby was smashing the aforementioned monster cookies underneath the beautiful wood tables in the lodge – this was not our experience, I'm just relating it for a friend.
Then there is the skiing. Nakiska is known for it's meticulously maintained runs that lend themselves as a racer's dream hosting countless international competitions. The runs are confidence inspiring, and beautiful, and our five and seven year old rippers felt like rockstars. The high speed chair not only whisks skiers up quickly to catch more runs, but is a nice bonus-feature for the parent hiking with the baby below waiting for his or her turn to go for a quick ski.
The top was a magical little surprise this week, having received eight inches of fresh snow the night before. It was not only a great day with the kids,
but for us parents, we got to ski a powder day – and it was amazing. The fog closed in leaving you in a winter wonderland, with snow-covered trees and every little building looking like a mystical cabin in the woods.
Next time you're looking for a quick day trip from Calgary don't discount Nakiska Ski Area. In fact, it should be near the top of your list. And if you go on a Thursday you might just have the place to yourself.
Words & Photos by Chelsea Mackenzie Photo
See more photos of the experience on the original blog post on Chelsea's website.