Tuesday, 10 November 2020
Instead of skiing and riding in Banff, try Canmore Kananaskis this winter, pull off and let the traffic continue, while others are still behind the wheel, you are strolling the quaint shops of main street, Canmore.
We think you'll like this new twist, a stay-cation nearby, try Canmore and ski so close, with Nakiska Ski Area just down the road.
Sleep in comfort

Check out Canmore's latest edition of up-scale lodging options.  The full service, Malcolm Hotel, will take care of you – from plush pillows, kitted out rooms, complete with that amazing view of the Three Sisters, signature and stand-out mountains rising above you. After skiing, soak in a deluxe roof-top hot tubs, and enjoy night laps in the pool.
Don't even bother getting back in your car, stroll down to the shops and dining, main street Canmore is a short walk away.
Did we say groomed runs and more calling
Nakiska Ski Area, long a favourite of Albertan's, as it is so close, offers not only some of the best groomed runs, but even more, with the addition of the Monster Glades, now the rippers in your cohort, have a place to play too. Nakiska is also the perfect place to learn to ski and ride, so check out the packages that offer ski and ride lessons, rentals and lift ticket, so you can winter better this year.
Make a midweek adventure out of it – learn how to snowshoe, after skiing or snowboarding, try out the local trails, with the Nakiska Ski Area snowshoe tours.
Family fun – Tubing Park

Our Tube Park is fun for all ages, with 3 fun and fast tracks to ride plus a magic carpet that takes your right to the top!  With gorgeous views of the Canadian Rockies it's a great experience for the whole family.
Check out variety of Canmore dining options;
The Table Food & Drink is an upscale local restaurant who's philosophy is: Quality Ingredients + Traditional Methods + Contemporary Interpretation. Discover a new dining experience in our casual ambiance, punctuated by impeccable service.  Plus don't miss their $5 Happy Hour specials!
Crazy Weed Kitchen is a foodie's delight! Feeling like a treat?  Then put this one on your dinner plans.
Communintea is a healthy and happy place for breakfast, lunch and your to go hot drinks for the short drive to Nakiska Ski Area.
Graze Food & Drink promises simple and delicious Canadian Cuisine in the heart of Canmore with welcoming staff and an 'atmosphere that is good for your soul'.
Book your Malcolm Hotel Ski and Stay packages through the RCR Central Reservations department online or by calling 1-800-258-7669, you can also chat live with reservations agents through skircr.com.
For more information on activities and things to do check out the Tourism Canmore Kananaskis website.
Don't forget to do your part to stop the spread. Face coverings are required at Nakiska Ski Area, practice social distancing and reminder if not feeling good, please stay home.  For the full list of our guildelines please visit the Nakiska Ski Area COVID information page.
Don't forget Season Pass holders can ski anytime but if you are coming for the day you must purchase your lift ticket in advance.
Dear Guests,
Further to our March 15th decision to suspend Ski Area Operations, after careful consideration of the quickly changing circumstances around Coronavirus (COVID-19), Resorts of the Canadian Rockies has made a decision to suspend ski resort operations for the remainder of the 2019/20 ski season at our Western Canadian Resorts, including Nakiska Ski Area, Fernie Alpine Resort, Kimberley Alpine Resort and Kicking Horse Mountain Resort. Here at RCR our number one priority is the safety, health and well-being of our Guests, Team Members, and the Communities which we live, work and play in. As tough a decision as this has been, we feel it is the right thing to do under the current circumstance.
In an effort to limit social interaction we will not be opening our guest service and ticket offices for the time being, both at resorts and our Calgary office. For questions regarding purchased products please email the address below (In response to this situation we are receiving an overwhelming volume of calls and emails, your patience is appreciated as work respond to these requests).
We sincerely apologize to you our guests for this inconvenience. As always, we truly appreciate the support which we receive from you and thank you for that. We will look forward to welcoming you back to our resorts and Mountain Communities in the future.
Sincerely,
John Shea
President/Chief Resorts Officer
Resorts of the Canadian Rockies
Thursday, 20 February 2020
Have you ever wanted to head to the mountains for a day of fun in the winter with non-skiers, but unsure of what to do? Look no further than a short drive from Calgary to Nakiska Ski Area for a tubing adventure that will leave everyone in your group grinning from ear to ear.
Our family of five headed to the designated tube run area accessed by a magic carpet (not unlike a moving sidewalk) that whisked us up the hill for an exhilarating ride down. The tube run attendants helped everyone get situated and gave the option of taking a spinning ride down, a group ride, or solo straight shot down the track.  We tried it all, and when our ski-crazy six year old asked if we could skip skiing and tube all day, we knew the activity was a hit!
In our ever-increasingly connected society I feel we need to be more mindful of making family memories where screens are not involved. Spinning down the mountain shrieking and laughing with our kids accommodated an experience of just being present with our children. There was no coaching or expectations, just pure fun.
As a parent, I couldn't help but note how easy it was – no special equipment, just warm clothes and snow boots. Heading out without extra supplies is always noteworthy in my books, especially when it still leaves everyone hooting and hollering.
Children 42" or 3 + years old are able to ride in their own little tube side by side with their parents. When we peaked in at our youngest after her maiden voyage we weren't sure what she thought as she was completely bundled up and her face was hard to detect. However when we asked if she wanted to go again, her exaggerated head nod let us know all we needed – and then we saw her twinkling eyes and grin.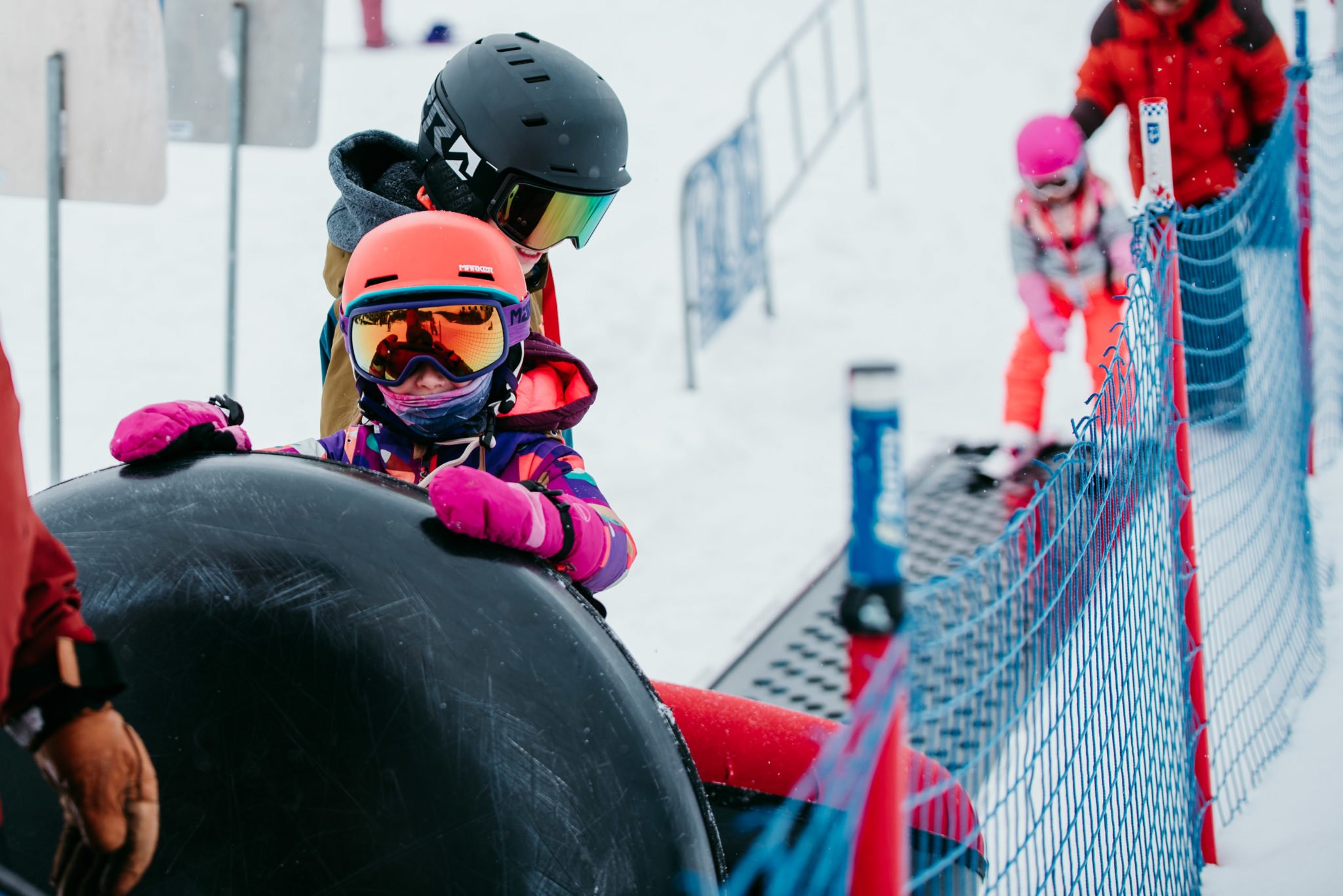 Even though the opportunity had arisen to enjoy the mountains without packing the car full, we couldn't possibly go without skis. It felt wrong. Tubing then was just part of our day out and I was thrilled to find out that with the purchase of a regular lift ticket, adults can add on a tubing pass for $15 and children only $5 extra for 2 hours of tubing.
Whether you are a diehard skier or have never seen the mountains in the winter, snow tubing at Nakiska is guaranteed to be an amazing experience. If you don't believe me, feel free to talk to our six year old – she hasn't stopped talking about it all week.
Photos & Words by Chelsea Mackenzie Photography