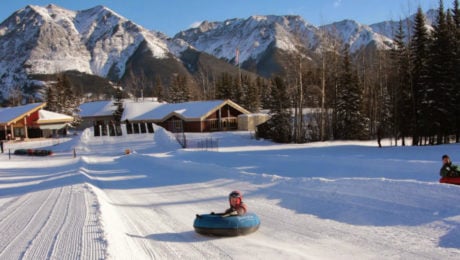 We got to try Nakiska's brand new Tube Park while we were at the resort before Christmas.  First impression, I honestly thought it looked like a miniature toboggan hill.  It didn't look like much and it wasn't very big.  I'd never tried tubing at a resort before so I guess I had built it up in my mind to be something much larger.  I quickly changed my opinion after the first ride down though.  It was the most fun I've had on a sled or tube – EVER.  And it didn't hurt!
I'm not generally a big fan of sledding because honestly, this body is just too old to handle all the bumps and jarring anymore.  Tubing at Nakiska on the other hand was completely gentle, smooth, groomed, and adult-friendly!  I'd go back again any day!
My son loved it as well and wasn't scared in the slightest (which surprised me given the speed you get up to.)  There was a height limit but fortunately he's tall for his age and got to ride.  Most kids 5+ would likely be tall enough but maybe call before you go if your child falls short for his age.While the Tube Park is small at only two chutes, there was no line up the day we were there and my son was easily entertained for over an hour at the park.  It makes for a wonderful compliment to the beginner area which is conveniently located right beside the park, sharing one of the same magic carpet lifts.  Tube Park Only passes can be purchased for families just using the beginner area and children under the age of 6 are free when tubing with their parents.
Thanks to the Tube Park, we actually spent the whole day at Nakiska!  I never dreamed that would be possible with a child that's not even 5 years old (second day on skis), but between the beginner area, the Tube Park, and a few runs down the bronze chair, our day was happily filled up and we had a blast!!
Words & Photos by Tanya Koob