Family friendly guide to skiing/snowboarding at Nakiska, Calgary's Closest Mountain
Thursday, 03 September 2015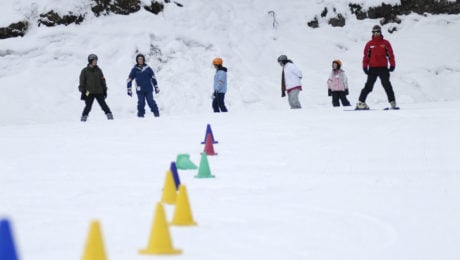 Words & Photos by Tanya Koob
I remember our first family downhill ski trip in great clarity because I had been extremely apprehensive of the whole sport as a "family experience." My husband and I had done a lot of resort skiing back in the "good old days" before kids but had been nervous to try it with a child in tow.  We were both envisioning the worst when we thought of taking a small child to a busy ski resort for a day, of having to find parking and get all of our gear to the day lodge, and of having to find space in a crowded lodge for our family to eat and rest. Add other fears such as having to get out of the house early in the morning to reach the hill in time to find parking, dealing with a cranky child who's missed his afternoon nap, and having to deal with a tot who may or may not appreciate the long car ride out to the hill (and back) – and you can see why I was just a teensy bit apprehensive of the whole experience.
All I can say in a quick response to the above fears is thank god for Nakiska!  One half day at Nakiska and all of my fears were relieved. We had a fabulous first day downhill skiing as a family and my son would now consider it to be his favourite winter sport.
Tips for a Relaxed Morning at the Hill
We tried to pack for our ski day the night before to save time in the morning.  When we got up, we just had to have a quick breakfast and jump in the car.  Other things we did to save time were booking our son's ski lesson in advance rather than just showing up at the hill to register him, and buying him his own gear rather than renting at the hill.  If planning to rent, allow for at least an extra half hour at the hill before you will be able to start skiing. (Something to keep in mind if you have lessons booked first thing in the morning.)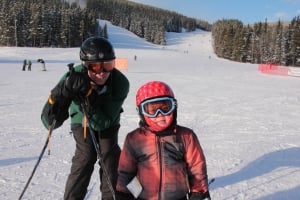 We arrived at the hill with plenty of time to find a good parking spot, to find our way to the day lodge, pick up our lift tickets, and to make our way to the meeting spot for lessons.  We quickly discovered that registering our son in a lesson for first thing in the morning was the smartest thing we could have done as beginners to family downhill skiing.  We only had to worry about getting one person dressed and set to go rather than getting all three of us ready at the same time.
As soon as our son was in his lesson, I distinctly remember grabbing a coffee and thinking about how relaxed the whole process had been.  Because of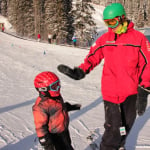 the lesson, my husband got to ski on his own all morning and was able to do a bunch of his favourite runs rather than spending the morning on the bunny hill.  Meanwhile, I spent a relaxed morning with my coffee near the day lodge and kept close tabs on the lesson process.
Lunch without the Crowds
We headed in for an early lunch after the lesson and discovered another secret to success:  Eat early to avoid crowds!  We had left a duffle bag with our personal belongings and lunch under a table in the day lodge and had no problem finding it when we went inside.  We easily found space to eat, and had an enjoyable time in the non-crowded dining area.
Family Bonding at the Hill
We've gotten into a habit where we try to take advantage of children's lessons in the morning whenever possible and then we spend the afternoon skiing together as a family.  We can now bomb down the blue runs together with our 6 year old who's become quite the proficient skier but on our first
day at Nakiska, we enjoyed the bunny hill together and took a few spins down in the tube park. The Tube Park was a great add-on to our ski day and allowed some rest time from skiing. We had a snack in the lodge mid-afternoon and then left the hill early to avoid congested roads on the drive home.
Final Tips
Bring a sled to haul gear into the lodge with or load your gear (and youngest tots) into a Chariot stroller
Go as a group and alternate child care duties with friends or go with another couple and take turns with the men doing bunny hill/day lodge duty while the women ski, and vice versa.
Bring a grandparent or family member along who is content to hang out in the lodge with babies or young tots not old enough to ski yet