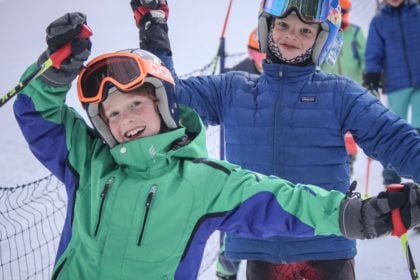 As you explore the many options being presented to your family for outdoor winter sport activity, we at the Alberta Alpine Ski Association thought we would take this opportunity to introduce your family to ski racing – a truly family sport.
Alberta Alpine is the governing body for alpine and ski cross racing in Alberta. We are comprised of incredibly dedicated and talented clubs across the entire province, offering ski racing development programs to children in the following age categories: U8, U10, U12, U14, U16, and FIS. Through our club network, we have created life-long skiers, coaches, and even World Cup Champion ski racers.
Alpine ski racing is divided into the following primary disciplines, which athletes will begin to explore as they age through their clubs program offerings:
Slalom is the shortest race featuring the most turns. Competitors aim to complete the technically exciting course, then the course is reset and athletes who qualify for a second run tackle the course once again with those receiving the fastest combined time coming out on top of the podium for the day.
Giant Slalom (GS) is similar to slalom, with fewer gates and slightly larger turns, increasing the speed athletes travel down the course. GS is also a two-run event, where combined times are used to determine the finish rank of the day.
Super Giant Slalom (Super-G) is a speed event that athletes can begin to explore at U14 and older, featuring a longer course than GS, with fewer turns. This discipline is usually introduced in a camp format, where athletes learn speed technique under the direction of highly qualified coaches. Super-G races are one-run events, where the fastest individual times determine the finish rank.
Downhill is the longest and highest-speed event in alpine ski racing. If you've watched ski racing on TV, this is likely the event you were watching. Downhill is fast and thrilling to watch, and competitions are targeted to athletes at the high-performance level of the sport. Downhill race winners are often determined by hundredths of seconds, and at the World Cup level, these races can draw fans in the tens of thousands to cheer on the worlds fastest women and men.
Ski Cross is an exciting discipline combining both the skills of alpine ski racing, and freestyle skiing in a fan-favourite event. Athletes learn the sport by gaining an understand of speed development skills using features on the track such as rollers and banked turns. Eventually, athletes compete head-to-head on a track featuring a variety of technical features. Canada, and Alberta specifically, have produced some of the worlds best Ski Cross athletes, including Calgarian Brady Leman, who won gold at the 2018 Olympic Winter Games in Pyeongchang, South Korea.
Perhaps the best part of ski racing is the community of passionate families it brings together. Often the entire family participates in one capacity or another, and 'ski friends' become lifelong relationships that often far surpass a child's time in ski racing programs.
For more information, and to find your local club, please visit albertaalpine.ca, or call 403-609-4730.