NAKISKA SKI AREA WHAT'S NEWCAST FOR THE 2015/2016 SKI SEASON
Tuesday, 03 November 2015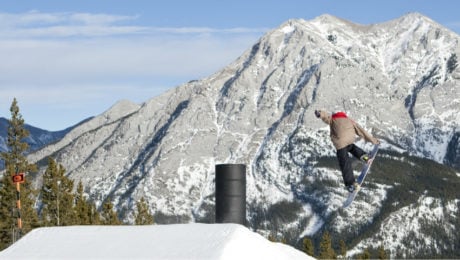 For Immediate Release: November 3rd, 2015
NAKISKA SKI AREA WHAT'S NEWCAST FOR THE 2015/2016 SKI SEASON
Kananaskis, AB – Nakiska Ski Area has undergone some major upgrades in the last few season including expansions to the tube park, ticket area, food & beverage outlets and parking lots.  Here are some of the upgrades being done for this season;
– NEW Ski App
This season you'll be able to check the weather conditions, snow report, mountain status updates and more, from the NEW RCR Ski App!  More info.
– Trees are for Glades movement
We're keeping Trees for Glades this season!  Not only are we not printing a brochure, we're also having a tree planted for each email signed up on our new Trees are for Glades website. Enter a contest to win a ski vacation on the website too!
– More Environmentally Friendly Snowmaking Systems
New closed loop cooling system for the snowmaking compressors.  Prior to this the compressors were cooled using water, eliminating this saves 800 gallons per minute.  That water is now available to go up the hill for snow production and is no longer dumped back into the river.
– Continuous Snowmaking Route
The new snowmaking pump house, once done the new pump house will allow us to make snow in one continuous trail from the top of the gold chair to the day lodge.
Get more information about What's New this season on our website.
About Nakiska Ski Area & Resorts of the Canadian Rockies Inc.
Nakiska Ski Area, Calgary's Closest Mountain (www.skinakiska.com), is a member of the Resorts of the Canadian Rockies Inc. (RCR) family. Proudly Canadian, Resorts of the Canadian Rockies Inc. (RCR) is the largest private ski resort owner/operator in North America, owning six ski resorts across Canada, including Nakiska Ski Area in Alberta; Fernie Alpine Resort, Kicking Horse Mountain Resort and Kimberley Alpine Resort in British Columbia. RCR also owns and manages a number of hotels and golf courses, including Trickle Creek in Kimberley, and Wintergreen Golf and Country Club in Bragg Creek. RCR aims to provide each and every guest The Ultimate Experience.
For more information, please contact:
Matt Mosteller
Senior VP Marketing & Resort Experience, Resorts of the Canadian Rockies
[email protected]
Twitter – @PowderMatt
Powder Matt's Blog
Powder Matt on Pinterest
Powder Matt on Google +
-30-